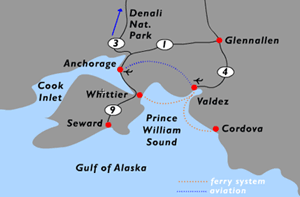 Valdez is located on the north shore of Port Valdez, a deep water fjord in Prince William Sound. Referred to as "Little Switzerland", Valdez is surrounded by breathtaking snow capped mountains. Valdez lies 305 road miles east of Anchorage, and 364 road miles south of Fairbanks.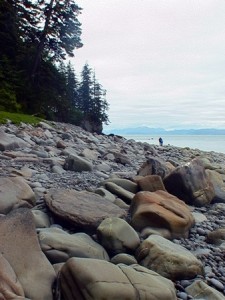 Valdez can be reached by the Alaska Marine Highway. The state ferry provides transport to and from Whittier, Cordova, Kodiak, Seward and Homer. It takes 6 hours from Whittier to reach Valdez via the ferry system.
Alaska Airlines has two, and sometimes three, daily flights from Anchorage. The flight from Anchorage to Valdez takes 40 minutes. Our advice is to make your reservation for an earlier flight or even for the day before to avoid potential flight cancellations.
The Richardson Highway connects Valdez to Anchorage, Fairbanks and Canada. Driving time from Anchorage to Valdez is 6 hours. Allow ample time for driving because the highways are very scenic and you'll want to stop to admire the view and take pictures. Along the way there are a number of roadside lodges and campgrounds. If you are driving from Anchorage we recommend food and lodging at Sheep Mountain Lodge.
Once you reach Thompson Pass and enter Keystone Canyon, you are getting close to Valdez. Follow the Richardson Highway into town, ( about 10 miles), passing a number of RV Parks. Turn left on Chitna Drive, go to the end ( 2 short blocks) turn right on North Harbor Drive. We are located three buildings down on the right hand side at 225 North Harbor Drive. If you see a place called Fish Central or Mike's Palace, you have just passed our office. For a complete listing of accommodations, tours, and services in Valdez, please visit our helpful travel links.